( Specimen : Type II Radio Burst )

:
:
:
:
At 1740 UT on Sept. 7, 2005, Earth-orbiting satellites detected a major solar flare,
X18-class or stronger, coming from the Sun's east limb. The source of the eruption was
sunspot region 808 (old returning region 798), which caused auroras in August.
Here is a three minute audio recording of the primary shockfront beginning at 1740 UT
recorded with a stereo radio telescope at the frequencies of 22.222 MHz and 22.714 MHz.
This was a very fast plasma eruption and a superstrong coronal mass ejection.
Headphones strongly recommended for full stereo spatial effect. And it is best played at moderate to loud volume.
Click below for soundfile.
X18Sep7_05_22MHz_Ashcraft.mp3
2.8 Mb 3 minutes long
:
:
:
Timeline of recording:
0 sec to 36 sec beginning to burst
at 38 seconds : ascenscion
at 1 min 28 secs strong shockfront kicks in and peaks for a minute
at 2 min 40 sec down slope of shockfront
:
:
:
Movies and visual record of event at
http://www.lmsal.com/solarsoft/last_events_20050908_0947/gev_20050907_1717.html
:
:
:
:
For Sudden Ionospheric Disturbance Researchers
here is my 18.7 MHz chart.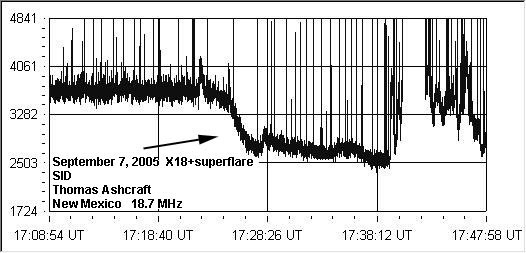 More solar recordings

Thomas Ashcraft
35.50 N -105.88 W
New Mexico USA
mail
information(at)heliotown.com