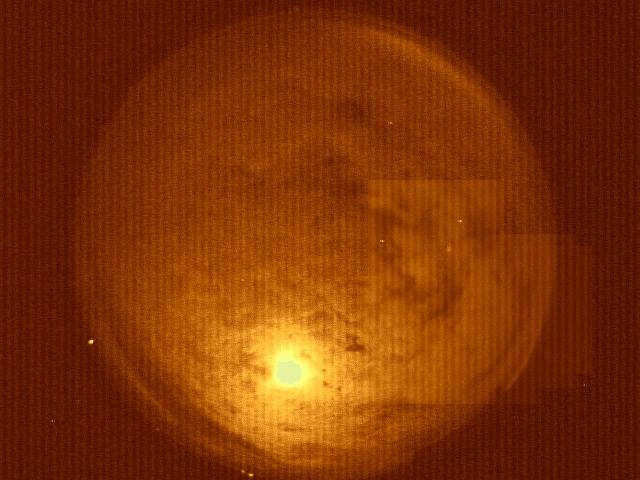 Note : Possible meteor is a small fuzzy dot in the highlighted box. The Moon is the large blob of light.
Possible Meteor : May 16, 2008 0344 UT

Observer's Comments: Cloudy most of the night. The Sentinel system made one capture which may be a satellite
or may be a possible meteor above the clouds. Difficult to tell.
Movie :
Movie 1 : Sentinel all-sky camera system capture, without sound:
v20080516_034452ut_Ashcraft.mov
782 KB 6 seconds
---
Fireball : May 16, 2008 0945 UT

Observer's Comments: This particular fireball was far to my north over Colorado. Not a Sentinel capture.
Movie :
Movie 1 : Ashcraft's video/radio system with dual channel forward scatter sound.
The fireball is very hard to see in the movie but is a small blip of fast moving light at the top of the screen.
FB20080516_0945ut_Ashcraft.mp4
3.3 MB 24 seconds
Below: Radio spectrograph of the time of the meteor. 61.250 MHz reception above white line, 83.250 MHz below white line.
Meteor above occurs during the 09:45 UT minute.