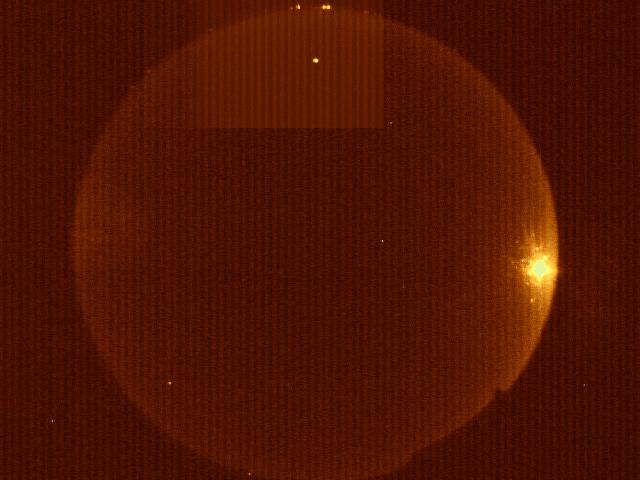 Above : The above image and first Movie 1 just below captures a satellite glint above central Colorado.
The satellite was possibly the Helios 1B, a French military satellite. (Still confirming this.)
Movies :
Movie 1, 1140:34 UT ( 5:40:34 am MDT )
Sandia National Laboratories Sentinel camera capture, without sound:
v20080320_054034.37.mov
1.6 MB 6 seconds
---
Fireball : March 20, 2008 0627 UT


Observer's Comments: Sentinel missed this particular fireball but it was captured on my secondary system in black/white with sound.
Fireball incidents are very low now in this part of space and this was probably the only fireball over New Mexico the entire night.
Look close, screen left.

Movies :
Movie : Ashcraft's Video/Audio Fireball system, with two radios, dual channel sound:
FB20080320_0627ut_Ashcraft.mp4
4 MB 20 seconds
Radiospectroghraph below of fireball during the 06:27 UT minute.
61.250 MHz above white line, 83.250 MHz below white line.
Back to Daily Fireball Archive
Best Selected Fireballs

Thomas Ashcraft
35.50 North Lat. 105.89 West Long.
New Mexico
Mail
To Heliotown and more various specimens